One of the nicest things of being a sea nomad is encountering fellow sailors. In Marina di Ragusa we meet Kobi and Joost and their lovely catamaran "Puchi". Together we are heading to Malta to explore new horizons.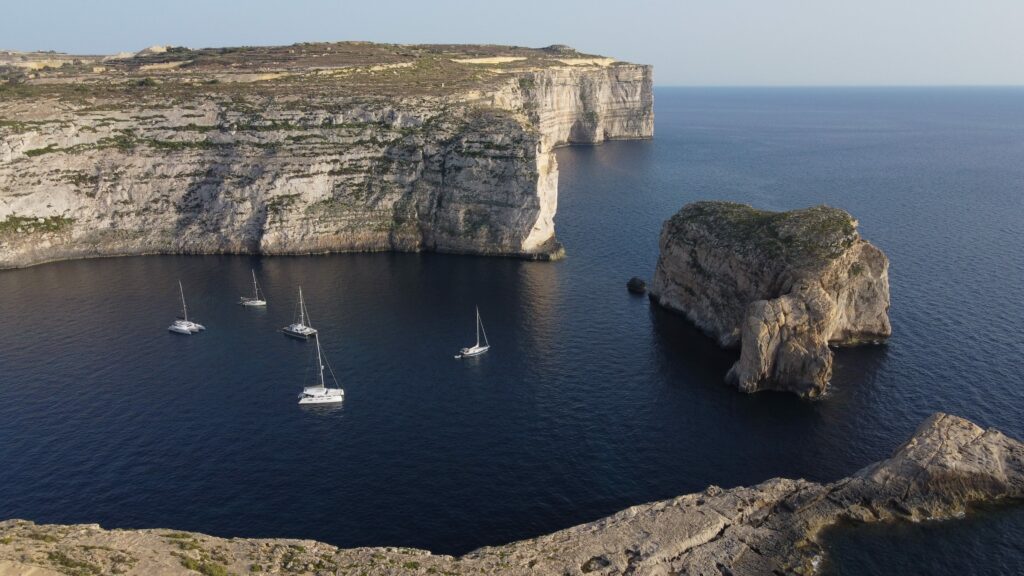 In Dwejra bay we find a spectacular anchor spot well protected by a massive rock in the middle of the entrance. After creeping in, not an easy job for the wide Catamaran, we see a perfectly round cove to drop our anchor. While exploring with the dinghy Joost finds another hidden inland sea only to be reached through a rock tunnel. Easy to imagine smugglers and warlords hiding in those coves for centuries.
From Gozo we sail on to Valletta, the historic capital of Malta. The narrow streets in the fortified city betray the dramatic history of this natural harbour. Ottoman, French and British influences make for an interesting walk through the limestone alleys.
Old British signs adorn the rundown houses of the city. Despite of being one of the first Unesco Heritage Sites Valletta suffers from vacancy in some parts.
Renzo Piano's parliament building is an artful addition to the streetscape of Valletta . Using the same limestone which you see in the old buildings it fits beautifully into the environment. The structured facade is cleverly constructed to keep out the fierce mediterranean sunlight.
Most of the buildings however are from a different era, the baroque style is omni present and we get to admire a few fine examples while visiting the opera house and the cathedral with its Caravaggio painting.
I segreti del chiostro or mysterium fidei immediately appeals to our imagination. After being closed for more then 400 years only three elderly nuns remain in the order of st Catherine. A very austere and strict order who demanded complete seclusion of its followers. Once entered into the cloister the women were not allowed to speak amongst themselves let alone to speak or see any outsiders. Apart from religious motivations one could imagine that many women did not enter voluntarily but were forced as a means to silence them for ever. As a dowry every girl would bring a zinc tub to wash their clothes. As a reminder of the women who spent their lives inside those walls we see the many tubs hanging on the walls. Testimony of the women who, once inside, never got out again. Even after their death they were burried inside the cloister.
Another historic building is Casa Rocca Piccola, a 16th century home of Maltese nobility. This house testifies of a very different way of life.
We say goodbye to Kobi and Joost in the beautiful anchoring spot il Hofra z Zghira. Tomorrow we will be heading back to Sicily, anticipating a wonderful time with lots of family gatherings and festive activities.