Cruising from Corsica to Sardinia we found the wild and rocky Maddalena archipelago. A very popular anchorage but as it was low season we found plenty of place to enjoy the serene beauty of pink rocks and azure blue waters.
The place is named after the one inhabited island in the archipelago called la Maddalena. It consists of a small town which is the birthplace of Giuseppe Garibaldi, the architect of the unification of the Italian republic.
La Spiaggia Rosa is a curious pink beach caused by a species of coral which grows on seagrass and washes ashore once it dies. It is well protected nowadays against souvenir hunters who used to take along some of the pink sand.
Sailing southwards along the east coast of Sardinia we noticed from afar a big square mountain which looked like the "Tafelberg" in Capetown, South Africa. Funny enough the island indeed was named Tavolara and its story gets even better: back in 1836 the then king of Sardinia granted a shepherd, living on the island, the title of "king of Tavolara". The king had two wives and 5 children. The complete royal family of Tavolara seems to have been photographed commissioned by queen Victoria who wanted a picture of every royal family in Europe. In this way their picture now hangs somewhere in Buckingham palace. The current king Antonio now runs a restaurant on the Island called "da Tonino".
It is fascinating to learn about all the people that lived in the Mediterranean area. Ages and ages ago and centuries before Christ. On Sardinia you'll find prehistoric dwellings dated from the Bronze Age called Nuraghi. A Nuraghe is a circle built from large stones which used to have a pyramid formed roof made from wood or straw. There are 7000 Nuraghi to be found on the island, alone or in villages. Low or sometimes up to 8 meters high they are an overwhelming presence and make you wonder what it would have been like to walk through the dense vegetation and to make a living in those times.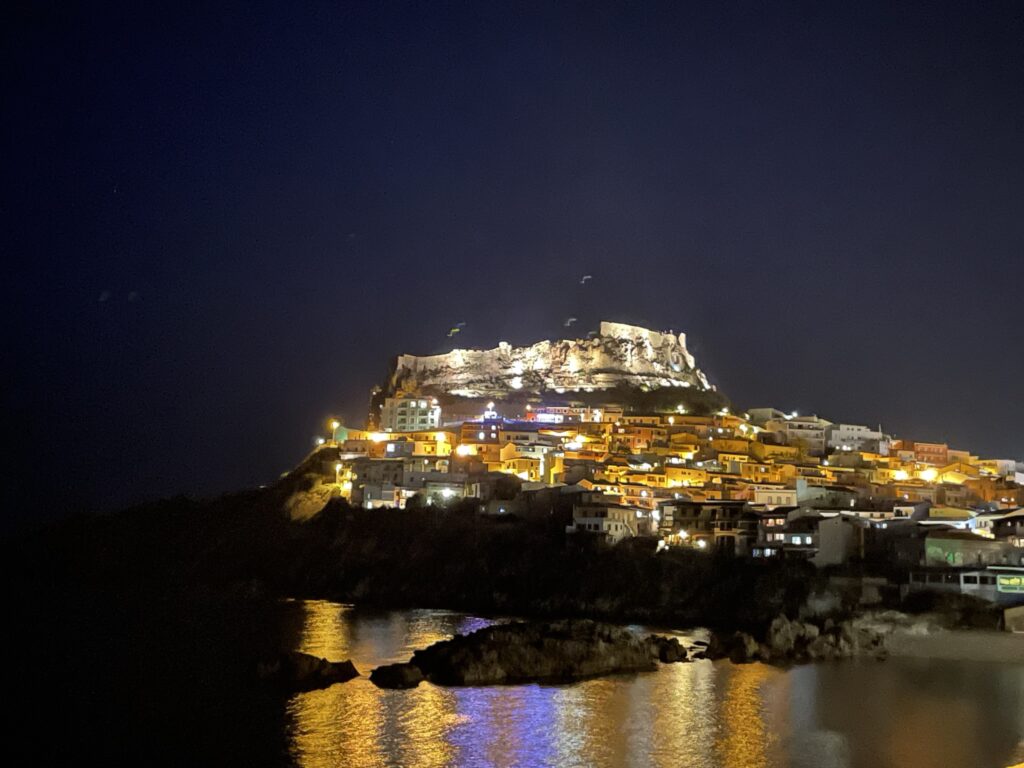 Castelsardo
More than 3000 years later the Spanish took an interest in Sardinia and built some fine fortresses on the west coast. The trade was blooming and ships would get around everywhere so there was a continuous battle over the strategic islands. These days the little fortified towns are sleepy and of a laid back charm. The people are friendly and relaxed and the food is good. Every evening at around seven the town comes alive and people step out of their houses for an evening stroll. People of all ages are to be seen walking and talking and enjoying the cooler hours of the day.
Alghero
Bosa
Cala Domestica
Our Sardinia trip continued and we anchored in lovely places where we enjoyed the blue waters and the austere beauty. Often we were on our own which is an advantage of the low season.